---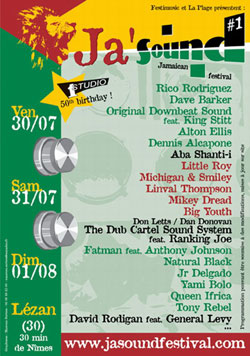 Des changements de programmation,
indépendants de notre volonté,
sont intervenus sur la soirée du 30 Juillet.
Veuillez nous en excuser
---

Programmation 2004

(Cliquez sur les artistes pour avoir leur infos
)



Jeudi 29 juillet:
Soirée d'ouverture gratuite :
REALITY SOUNDS feat. MURRAY MAN & RAS DANIEL RAY
ZION GATE HI-FI feat. RAS MAC BEAN
---
-Vendredi 30 JUILLET-

Tribute & respect to studio one

AL CAMPBELL

DAVE BARKER

BB SEATON of the legendaries GAYLADS

DERRICK MORGAN

DENNIS ALCAPONE

ABASHANTI-I

Ouverture : Piratedub feat. Lennox Dread
---
-Samedi 31 JUILLET-

ROD TAYLOR

MICHIGAN & SMILEY

LINVAL THOMPSON

MIKEY DREAD

BIG YOUTH

THE DUB CARTEL SOUND SYSTEM
feat. Don Letts, Dan Donovan & RANKING JOE

Ouverture : Piratedub feat. Lennox Dread
---
-Dimanche 1er AOÛT-

FATMAN feat; ANTHONY JOHNSON

NATURAL BLACK

YAMI BOLO

JR DELGADO

QUEEN IFRICA

TONY REBEL
DAVID RODIGAN feat. GENERAL LEVY

---



Téléchargez le dossier de presse sous format pdf
---
Une triste nouvelle est tombée: Sir Clement 'Coxsone' Dodd est décédé la nuit du 4 mai 2004.
La plus grande icône de la musique Jamaïcaine n'est plus, mais son histoire restera.
Sans lui, pas de ska, de rock-steady, ni de reggae !!!
Sans lui, pas de Skatalites, de Wailers, de Heptones, et de centaines d'autres...
Sans lui le reggae devra maintenant continuer d'exister,
une page est irréversiblement tournée.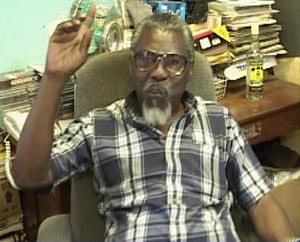 Tribute & Respect to Sir Coxsone
Tribute & respect to studio one
---